How We Roll
We are trained to quickly recover your files directly at your location without you having to bring your computer to a shop. If the amount of data you need us to recover is very large or if the Hard Drive is broken and requires extra attention, we recommend our extensive overnight File-Recovery solution.
At Tech!Espresso®, we have the "Get it done" attitude you're looking for!
Like a shot of Espresso, we are fast, affordable and get straight to the point.
We are a team of local computer repair technicians, licensed and certified to repair anything and everything computer related in minimal time and with maximum results. Our 40+ years experience, as well as our low rates and fixed or free policy, goes unchallenged in the city of Calgary, so why settle for less?
There is no need to take your computer across town to a shop, wait a week or more for the repair and pay without knowing if it will work at home. We come to you, repair, test and let you confirm everything is working before we leave - and before you pay.
Fixed or Free
.
Our repair technicians are Microsoft and Apple file recovery specialists that have access to industry leading tools to deep-scan your hard drive, restore or repair deleted and corrupt files effectively. We can recover deleted, formatted, or lost files from any HDD Hard Disc Drive, SSD Solid State Drive or USB Memory Stick, from any brand of computer used in your home or place of business.
---
Our Detailed File Recovery Process
We will give you a call 30 minutes before your set appointment to let you know we are on our way.
When your technician arrives, he will sanitize himself, as well as your equipment, before and after the repair.
Your technician is highly qualified and will immediately begin working to recover the files from your Hard Drive or other medium.
After the technician has completed the file recovery process, he will ask you to confirm the successul recovery.
Our policy ensures that you will not be billed if we are unable to recover your files.
Once the job is completed and you are happy with the results, we will then take payment via Credit or Debit Card Terminal and send the receipt to your eMail address.
You will also receive an eMail from your technician shortly after the visit with wrap-up notes describing exactly what was done while recovering your data.
Repair Coverage
---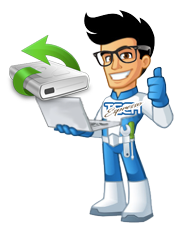 Hard Drive Brands + Models:
• ACER, AData, Samsung, Seagate, Fujitsu, Hitachi, Maxtor, Toshiba, Western Digital, Kingston, Intel, SanDisk, Quantum, IOMega, Crucial, Corsair, G-Skill and more.
---
Types:
• Internal: Conventional Hard Drives (HDD), Solid State Drives (SSD) and Hybrids.
• External: External Enclosure HDD's, SD Cards(standard, mini and micro), USB Sticks, Flash Media Cards, and more.
---
Other Services:
Our Pricing Model
We can recover most files within a single hour directly in your home or business while you watch for just $88. For large data amounts or broken hard drives, we will recover your files within 24-48 hours at a flat-rate price of only $199 (free pick up and return included).
View our prices here.