How We Roll
We are a local Calgary AB team of Microsoft and Apple certified
computer repair technicians
- equipped with all certifications, tools and software required to repair any computer related issue directly onsite, within your business immediately. We have extensive experience in repairing Apple, Acer, ASUS, Alienware, Dell, HP, Lenovo, Thinkpad and Toshiba computers running Macintosh MacOS and Windows Operating systems with every hardware configuration possible. Tech!Espresso
®
will make sure evrything is working perfectly before we leave - and better yet - before you pay!
We repair and optimize Windows PC and Apple Macintosh computers, as well as any model of nework router, printer and corporate server, directly onsite within your business while you watch. We come to you, tools in hand, ready to repair your computer or related device as soon as you need us.
There is no need to hire expensive IT staff when we can repair, manage and secure your network on-demand whenever you need us at a fraction of the cost to you. We are Local. We are Trusted. We are Certified and Professional. We do not take any payment until our work is done and you have personally confirmed the successful repair.
---
Our Detailed Tech Support Process
We will give you a call 30 minutes before your set appointment to let you know we are on our way.
When your technician arrives, he will sanitize himself, as well as your equipment, before and after the repair.
Your technician is highly qualified and will immediately begin working to resolve the issues you have described.
After the technician has completed the repair he will thoroughly test the result and ask you to confirm the job.
Our policy ensures that our technician will never try to sell you anything what-so-ever unless it is necessary for the repair.
Once the job is completed and you are happy with the results, we will then take payment via Credit or Debit Card Terminal and send the receipt to your eMail address.
You will also receive an eMail from your technician shortly after the visit with wrap-up notes describing exactly what was done while working on your systems.
Repair Coverage
---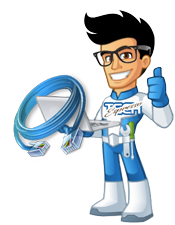 Computer Brands + Models:
• Windows: Acer, Asus, Alienware, Dell, Gateway, HP, Lenovo, Sony, Samsung, Thinkpad, Toshiba, LG and more.
• Apple: MacBook, MacBook Air, MacBook Pro, iMac, Mac Mini, Airport, Time Capsule, iPhone, iPad, Apple Watch
• Everything Else: Routers, Modems, Printers, SmartTV's, iOT Appliances and anything else that connects to a computer or the internet.
---
Operating Systems:
• Microsoft Windows: XP, Vista, 7, 8, 8.1, 10, Server 2008 R2 - 2016
• OS X and MacOS: Snow Leopard, Lion, Mountain Lion, Mavericks, Yosemite, El Capitan, Sierra, High Sierra, Mojave, Catalina, Big Sur and Server OS
---
Other Services:
Our Pricing Model
One rate for all services!
We charge by the hour and not by the item. This allows us to repair multiple issues without billing you for each individual task. Our fully certified technicians work very efficiently in getting everything resolved quickly - and correctly - the very first time, so you save money now - and later down the road through lasting results.
View our prices here.